Want to bring your A-game to Facebook or another social media platform, but can't find the time?
To really maximize your time, and efficiently post quality content, you need a plan. A weekly plan is a good place to start. It can be as simple as ideas scrawled on an iCloud document, or as professional as a schedule mapped out on an online tool like Sprout Social or Hootsuite. Either way, you'll want a list of posts organized by day – a content calendar.
Consider your audience
To begin in earnest, consider your audience. Are you a real estate agent reaching out to new home buyers? A graphic designer wanting to attract work from small male owned businesses? Or maybe a hair salon developing relationships with your current female clientele.
Take a moment and jot down as many details as you can about your audience. Are you marketing to consumers or businesses? Is your average buyer female or male? What is their economic level or ad budget? Are they small, mid-sized or large companies? Will your focus be on new or current customers?
Where to post
With your audience in mind, take a look at the demographics of the following top social platforms. You want to go to where your customers are, not try to make them come to you. Most businesses will want to start with Facebook. However, it can be advantageous to focus on a smaller platform, if it more closely matches your audience demographic.


Demographics from Sprout Social
Jot down the social platforms that best match your demographic. Prioritize them. Plan to focus on them one at a time. Once you are comfortable with one, add another.
What to post
In this day and age, finding content to post is a keystroke away. All you need is a little imagination and a computer. You can google your best guess as to what customers are interested in. (An even better idea is to ask customers directly, through daily interaction or a quiz on social media).
If you feel unsure of what topics might get traction, you can always head over to a competitor's Facebook page or blog. Make note of what they are writing about. See which Facebook posts get responses. Those are topics worth considering.
When all else fails, know that there is a community of bloggers and social media enthusiasts that have been there. Here's a handy reference from Forbes that can help – 100 ideas for short posts.
You may be on the other end of the spectrum. You've googled so many documents, you're not sure how to organize them. This is when it's helpful to have a theme for each day of the week for posts, like Motivational Monday or Funday Friday. This not only helps for sifting through your current mountain of articles, but for seeking out future articles as well.
For gathering more content in the future, you can sign up for a Google Alert. You'll be emailed whenever articles show up with the topics you submit. Or head over to a news aggregation site like Feedly, BuzzSumo, or Scoop.it. Just type in the topics you're interested in, and it will bring up the most relevant and up to date articles.
Brainstorm what topics your audience might like. Take 7 topics and make them your 7 themes for the week. List the days of the week and assign a theme to each one. Google your topics and/or head over to a news aggregation site to find future articles & other content.
When to post
Each platform has its own peak time when the largest number of people are using it. You should note in your editorial calendar the following list of times from Postplanner, or keep it handy. You'll want to post at these times in the timezone of your audience.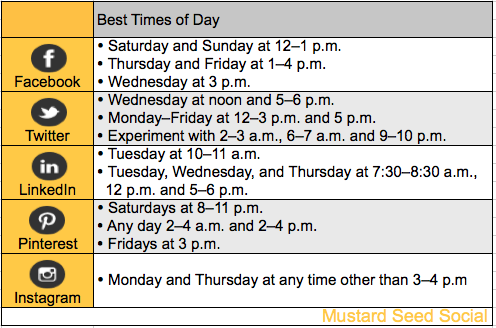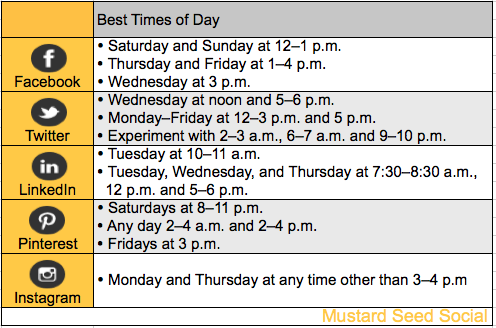 Ideally what you would do next, is head over to your social media platform of choice and upload your week's worth of posts. Both Facebook and Twitter let you schedule posts in advance, right on the platform. To post ahead of time to LinkedIn & Instagram, you'll need an online scheduling tool like Hootsuite. Hootsuite starts the process for you for Instagram but since the platform limits posts to real time, mobile users, you will need to finish the post manually.
If you're seriously considering using more than one network, or one that doesn't independently support scheduling posts, you'll want to look more closely at online scheduling tools. Here's an article from PostPlanner that compares them with a nice infographic.
Note the peak traffic times for your social platform in your editorial calendar. Schedule the posts within your platform (if you've chosen Facebook or Twitter). You may want to review the online scheduling tools infographic. Make a note of which tool looks best for you, give the tool a closer look.
Freebies
To help you get started, here's a Content Ideas Template you can download. You can use this to drop article title and links in.  Here's a Weekly Editorial Calendar you can use to map out your content.
You're set! Hopefully your content calendar frees up time and energy for you. No more scrambling to get a post up, here and there. You'll be organized and ready for the week! Don't forget to drop in on your platforms throughout the week for interaction, and to augment to your posts with breaking updates, reminders, and other news.